Dental specialist Align Technology promises to pledge $1 to charity, up to a total of $1 million, for every #4millionsmiles tweet or post
At 9.00 am this morning (7 September) Align Technology announced that the four millionth Invisalign patient has just started treatment. To celebrate this milestone Align Technology has asked people to share a smile using the hashtag #4millionsmiles. Every smile will be added to a geo-located world map (on a special website), lighting up the world as the smile count grows. Align Technology will match every post or smile with a $1 donation to Operation Smile for a total pledge up to $1 million*. The goal is to deliver 400 healing operations − the equivalent of $100,000.
Operation Smile is an international medical charity which has provided hundreds of thousands of free surgical treatments for children and young adults in developing countries who are born with cleft lip, cleft palate or other facial deformities. It is one of the oldest and largest volunteer-based organizations dedicated to improving the health and lives of children worldwide through providing access to surgical care.
Since 1982, Operation Smile has developed expertise in mobilising volunteer medical teams to conduct surgical missions in resource-poor environments while adhering to the highest standards of care and safety. It helps fill the gap in providing access to safe, well-timed surgeries by partnering with hospitals, governments and ministries of health, training local medical personnel, and donating much-needed supplies and equipment to surgical sites around the world. Founded and based in Virginia, U.S.A. the charity has extended its global reach to more than 60 countries through its network of surgeons, paediatricians, doctors, nurses, and student volunteers
How can you help? The plan is very simple. On 7th September (and during September):
• Post a selfie with a handwritten sign saying #4millionsmiles -or-
• Use one of the template messages: Operation Smile #4millionsmiles assets
• Include the following message: Share your smile with #4millionsmiles and help @invisalign_uk heal 400 children's smiles with @OperationSmile.
So do it today, tweet #4millionsmiles and share a smile.
Duncan Bannatyne, Sophie Ellis-Bextor, and Shane Warne are just some of the people who helped last year. Align hopes hopes you will join them this year. • On World Smile Day, 7 October 2016, please share another selfie to show how Operation Smile lit up the world with your help • Use the following post:
• Thank you for all your #4millionsmiles! We lit up the world for #worldsmileday and can now heal more children's smiles with @operationsmile
More at 4millionsmiles.com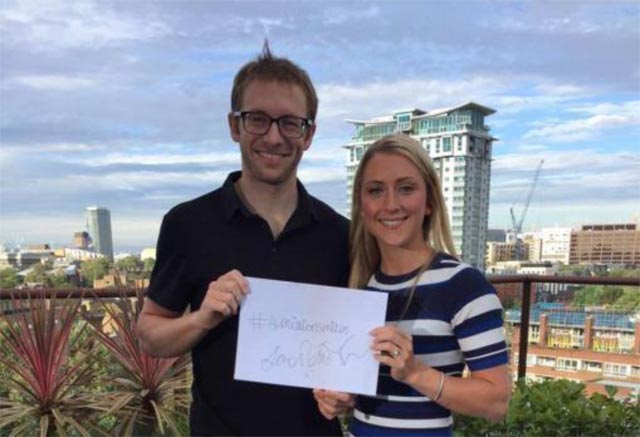 Latest news, gold olympians Laura Trott and Jason Kenny posted this selfie this morning, 12th September, after their return from Rio.
Four millionth Invisalign patient is from the UK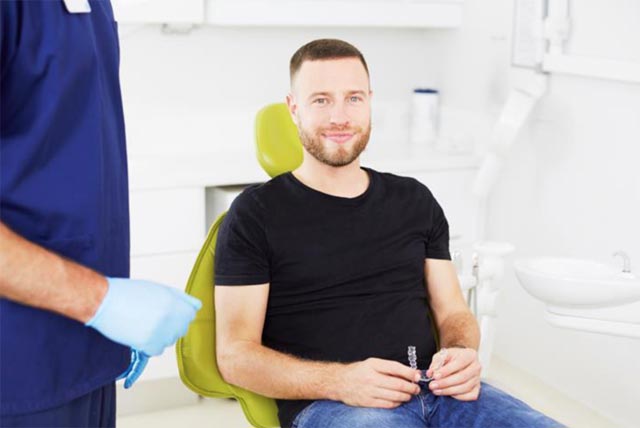 The four millionth Invisalign patient is Matthew Webb, who is in treatment with Dr. Graham Tinkler, an Invisalign professional at Bupa Dental Centre, Bank, London. To mark this major milestone for the company, Mr. Webb will be featured in an upcoming Invisalign advertising campaign, entitled 'One in Four Million', which will follow Matthew through his Invisalign journey capturing his experiences and the transformation of his new smile.
"I have been treating patients with Invisalign clear aligners for 10-years and in that time have improved the smiles of over 2,000 patients using Invisalign clear aligners," said Dr. Graham Tinkler. "I love the Invisalign system because it makes such a difference in people's lives, it can be tailored to suit the patient's needs, and it fits within their lifestyle. Every time the patient sees you they are a bit happier. Patients actually look forward to seeing you!"
"I really admire the less invasive approach to tooth straightening offered by Invisalign treatment and it was one of the reasons I opted for it", said Mr. Webb. "Dr. Tinkler showed me a computer simulation of my tooth movements with Invisalign clear aligners and we discussed various scenarios. I am blown away. I can't believe that something so thin and transparent has the capacity to move my teeth!"
To view an interview with Matthew click here.
*Align Technology donation pledge through March 3, 2018. To date, Align has donated US$200 thousand to Operation Smile as part of the #3millionsmiles campaign launched on March 3, 2015 and the #4millionsmiles campaign continues this pledge to Operation Smile. Facebook shares must be made public in order to trigger the donation. Restrictions apply. See the full terms and conditions at Invisalign.com.