Dental Review interviews Bupa specialist orthodontist Dr Katarzyna Proczek about her use of Invisalign custom made clear aligners
Dental Review exclusively interviews Dr Katarzyna Proczek, a specialist orthodontist at Bupa's London Bank Dental Centre, about her experiences with Align Technology's Invisalign orthodontic system, the discreet and almost-invisible treatment used to straighten teeth without braces. Katarzyna has been using Invisalign for over 10 years. She shares her insight into the type of cases she's used it for, as well as why and when she'd recommend its use.
On average, how long will a treatment take?
The time frame will vary from person to person and depends on the individual's teeth misalignment, as each case is unique. Most patients complete their treatment in a period lasting between six months and two and a half years. During that time the patient's teeth will gradually become straighter. It's important to discuss how long treatment will take with each patient, because this is something that really matters to them. Sometimes it can take much longer to get results than people might initially think.
Before treatment begins, we create a virtual 3D plan which demonstrates how teeth will move during treatment. Once treatment is complete, a few teeth may still need some adjustments. This refinement stage consists of wearing additional aligners and can take between three to nine months. As I said, each case is unique.
What kind of treatments have you completed with Invisalign?
I've done all sorts. I've used it for most types of cases for patients' misaligned teeth. However, in some cases, it can take longer to treat a more severe malocclusion with Invisalign than with fixed braces. A malocclusion occurs when your teeth are misaligned, and can describe any type of irregular contact between the upper and lower teeth. Again, it's vital to explain how long a procedure may take and to get agreement before starting treatment.
I always discuss the advantages and disadvantages of the different treatments available, so my patients understand what is best suited to them and their needs.
We know Invisalign can be used for patients who have a class III misalignment, what is the most complex procedure you have carried out using the system?
There are three different categories that describe different forms of alignment between the upper and lower teeth. These are broken down into Class one, two and three and can all be treated with Invisalign. Patients who fall into Class three are those that have an overgrowth in the lower jaw or a smaller upper jaw. Invisalign can help this by gradually moving the teeth to create a better fit.
Invisalign might also be particularly useful in some cases where patients have an anterior open bite. This is where there's increased overlapping of the lower teeth by the upper teeth. It's important to remember that each type of the misalignment – also known as malocclusion − has different levels of severity. There are a number of treatment options available, including combined orthodontic and surgical treatment, when problems also involve the jaws. For me, what's key is to properly diagnose and devise a suitable bespoke treatment plan unique to each patient.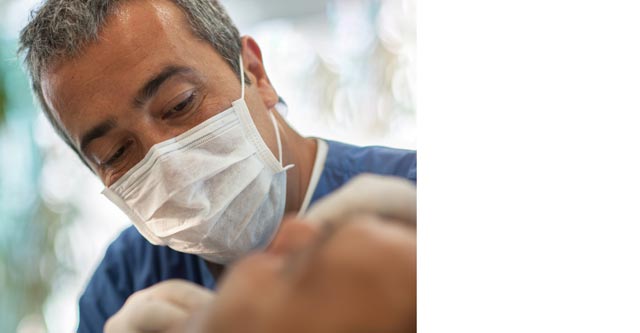 Are there indications or any cases where you would shy away from Invisalign, and why?
Invisalign isn't suitable for all patients. Personally, I wouldn't use it for people who have severely rotated teeth, large spaces in between teeth, severe overbites or severely tipped teeth. The correction process of all of these might take longer using Invisalign, and patients usually prefer I use a quicker way of fixing the problem.
What are the alternatives to Invisalign for these types of cases?
There are a number of alternative options. There are braces that can be glued to the inside of the teeth, these are called lingual braces. They are discreet and very popular. There are also clear ceramic braces, which are less discreet than lingual braces but favoured by some people. Fixed appliances might be a better choice for patients who have more complex orthodontic problems.
I treat a lot of complex cases and I enjoy using Invisalign, lingual braces, and ceramic fixed braces. Sometimes a combination of these different treatments can be used.
What do you think of ClinCheck Pro? Has it helped you?
ClinCheck Pro is the Invisalign 3D animated treatment planning software. The technology allows me to show the patient a custom, 3D animation of their treatment plan. It demonstrates how their teeth will move and what their teeth will look like when treatment is completed.
I really like it – it has a number of new features. Any adjustments can now be done directly on the 3D models; which has helped me carry out corrections more precisely and efficiently. I can also speak to Invisalign's technical advisory team more quickly. I've saved time and now have more control over the planning stage. Most patients are familiar with Invisalign and will ask for it by name. It has a number of celebrity endorsements.
The system is almost undetectable when in use, how important is that to your patients?
Most orthodontic patients specifically ask for something discreet, and they have researched different types of braces before coming to see me. Invisalign works well for some people because it's just as comfortable as most types of fixed braces, easy to wear and almost invisible. I would recommend Invisalign to my patients as a reliable treatment and procedure, but with the caveat that it might not be suitable for some patients who need more complex work. It's really important to discuss all the options available and the different pros and cons for each system before treatment starts, so the patient can decide which treatment they'd like me to proceed with. Informed consent is essential at every level of dental treatment.
Thank-you Dr Proczek.
For more information about Align Technology and Invisalign, press HERE. To find out more about Bupa, press HERE.