The Straumann team packed its Digital Performance roadshow into a display module behind a Freightliner juggernaut for a 10-day tour of the UK
From London's Sandown Park Racecourse via Manchester's Old Trafford to Edinburgh's Murrayfield Stadium and with many stops in-between the Straumann juggernaut will roll around the UK until 21 July to deliver its Digital Performance roadshow. Living up to the tour's catchphrase "It's time to rock" the Straumann band presents its latest digital solutions in a tailor-made display module mounted behind a gleaming, heavy-duty, Freightliner truck.
Lab technicians and dentists are invited to experience everything that embracing the new technology might mean to them in both time and cost savings.
The tour's message is simple, the digital revolution has arrived but you don't need to remortgage your house to get on board, you choose the level of investment you can afford. And those who have already dipped a toe into the digital waters needn't worry that they've wasted their existing investment because they'll need to replace it with something new, Straumann believes in an open system, as we learned during our whistle-stop tour.
Straumann's digital workflow
First on show was intraoral scanning, demonstrated using both a TRIOS 3 handheld scanner (above) and the smaller, portable Straumann CARES IO. Both are powder free units, meaning the operator can scan without time consuming preparation. However, amongst the many features that make the TRIOS 3 a leader in its field, it uses ultrafast optical sectioning to scan in colour. It is so precise the scan can even be used for shade taking.
The Straumann CARES IO is designed for the smaller surgery or for dentists who move their scanners frequently. Its screen has a surprisingly effective hands-free "gesture" option, which means the dentist can manipulate the scanned image remotely, without touching the screen, thus providing a more hygienic performance. Both scanners create STL files that are acceptable to any open software.
Before any digital workflow can begin, data must be captured and converted to a usable form. Intraoral scanners, digital radiology and CBCT scanners create recognisable files that the design software's built-in algorithms can work with for restoration design and implant case planning. However, traditional impressions and models must first be scanned, and the tour includes a Straumann CARES 7Series desktop scanner which, as does its sister range the 3Series, uses the latest generation blue laser triangulated scanning system – combined with precision optical and mechanical components – to guarantee optimum scans of up to 30 elements in 13 minutes. The scanners are supplied with powerful PC and several Dental Wings Open System (DWOS) applications. Operators can use the scans to design a wide range of restorations from simple copings to complex, full arch implants.
Diagnostics and implant planning software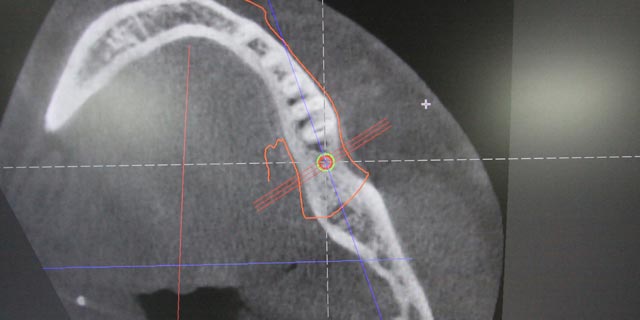 The name Straumann is synonymous with implantology, so it's no surprise that it has created a seamless workflow between its Straumann CARES Visual, coDiagnostiX and DWOS Synergy. Import any surface scan of the patient's dentition that can be matched with the patient's CBCT scan and the user can work in real time with their lab to build a virtual set-up using a range of model teeth. Thanks to working with a CBCT scan, the software's sophisticated segmentation and augmentation functionalities use 2D and 3D measurement features to help confirm implant viability, and pre-defined work spaces with 2D and 3D visualisation, including automatic nerve detection and critical distance warning functions, make diagnostics and planning more efficient. The software also includes an implant library that provides an indication-based abutment selection wizard. The library can offer a selection of implant, abutment and sleeve systems from several major manufacturers.
Gather data in a usable form; translate that into a restoration design or implant treatment plan that needs guides, whatever dental device you need must next be manufactured. At the heart of the digital workflow is computer aided design and computer aided manufacturing, CAD/CAM. The manufacturing side of the process is moving increasingly in-house in the lab, or chairside in the surgery. Affordable desktop wet and dry milling and grinding machines have been joined by 3D printing units, the very latest of which use biocompatible materials to print mouthguards, surgical guides, models and much more.
The printer on tour was the latest Straumann CARES P series, so new it won't be available until September at the earliest, although Straumann are taking orders for it now. Dental Review will be taking a closer look at the innovative P series at a later date
On the milling front we were first introduced to the Straumann CARES M series (below), a beautifully engineered Austrian machine that provides state-of-the-art 5-axis in-lab milling to produce a broad range of prosthetics, from inlays to onlays, veneers, crowns, bridges and screw-retained devices. The system works wet or dry to mill or grind many dental materials including zirconia, PMMA, cobalt chrome, sintered metal, wax, lithium disilicate and nano ceramics.
A more compact 5-axis dry milling machine is the Straumann CARES D series, which can work with all the dry millable materials, including: zirconia, PMMA, wax, Sintron chrome cobalt alloy, and hybrid ceramics.
The 'C' in the Straumann CARES C series stands for chairside. This compact 4-axis wet milling and grinding centre is designed to be used in the surgery to provide reliable and predictable precision when milling glass ceramic and hybrid materials for variety of indications.
Outsource options
Once the CAD capability has been incorporated in the lab some technicians may be reluctant to invest in the hardware. The complete scan to machining package might set the owner back by anything up to £50K. For such labs Straumann offers its centralised milling service across a comprehensive range of products: from full contour crowns and bridges to one step restorations. It also offers etkon iDent, which provides titanium and cobalt chrome customised abutments and prosthetic components compatible with many major implant systems, and Createch Medical, a direct to the lab milling service for the production of screw retained bars and bridges for fixed or removable prosthetics.
In conclusion we quote one of the tour team, who said: "Digital dental technology is very much in the same position now as the Smartphone. It is continually developing, and thanks to its immense sophistication is able to simplify and speed-up everything in the day-to-day dental world, from diagnostics to complex case design and prosthetics manufacture. From the surgery to the lab there has never been a better time to get involved in the digital revolution, and remember, Straumann CARES."